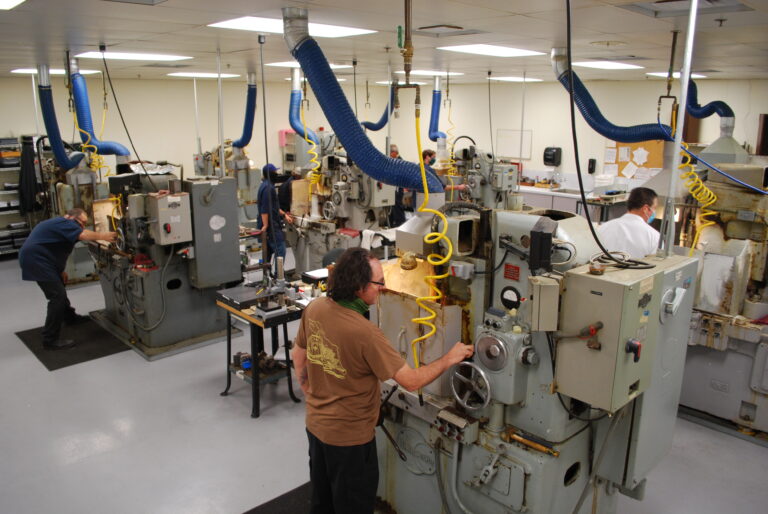 Our state-of-the-art, 41,655 square foot manufacturing facility is specifically designed to accommodate large volume, high quality, optical fabrication. Our optical fabrication technicians are some of the best and most experienced in the industry, and we put special focus on the continual training of our employees. This ensures a transfer of craftsmanship to new generations of opticians. And it's that craftsmanship that separates Precision Optical from all other optical facilities. Our Departments include:
Our shaping department features 9 Blanchard Mills, 8 Edgers (3 with CNC capability), 5 Wet Saws, 2 Bridgeports and in-situ metrology equipment, is responsible for all initial, in-process and final machining.
Our grinding department features of spindle grinders and single-sided stainless steel grinders that are responsible for removing sub-surface damage and achieving tight dimensional and angular requirements prior to polishing.
Our hand correction department features 9 diamond spindle wheels and a variety of inspection tools. This department is specifically designed to meet the tightest angular and mechanical requirements required in custom prism manufacturing.
Our blocking and de-blocking department features two Tiyoda-Serec Airless Vacuum Degreasers. The stringent demands of the Southern California Air Quality Management District (AQMD) require us to take every precaution in the usage of solvents. Our airless vacuum degreasers allow us to use strong industry solvents to assist in efficient optical fabrication, while maintaining a safe work atmosphere for our employees and the environment.
Our cleaning features brand new and completely "to-code" exhaust hoods. These hoods yield a department that is extremely effective, and operationally clean for the environment and our employees.
Our beveling department features a variety of beveling tools and diamond wheels. The majority of the bevels on our optics are applied "by hand." Our experienced technicians work patiently and diligently applying all necessary edge chamfers that are required, particularly on optics with unique or complex geometries. We also utilize beveling machines, which assist with very precise bevels on simpler geometries.
Our contacting department features an enormous amount of in-house manufactured tools in a temperature and humidity controlled environment. One of the founders of our company, Ruth Berry, was a long-term contactor for Precision Optical during her 46 year career with the company. Her knowledge and experience in contacting has been passed down to others and her techniques are still used to this day to generate precision optics.