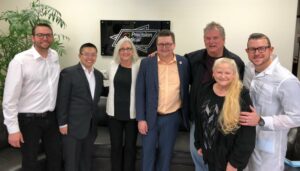 On March 14th, 2018 Precision Optical was honored to host Professor Scott P. Carney, the Director of the Institute of Optics at the University of Rochester and Director of Business Advancement Suzanne DeMers for a visit at our Costa Mesa facility.
The meeting was arranged through one of Precision Optical's Optical Engineers, Bo Wang, who himself is a University of Rochester alumnus. During their visit, Precision Optical was given a firsthand account of the new developments happening at the institute, as well as an introduction to the school's Industrial Affiliates program. Precision Optical's personnel also introduced the company to the Rochester team, and discussed possible collaborations opportunities, including support for Precision Optical's educational efforts.
Prof. Carney and Mrs. DeMers were also given a tour of Precision Optical's 42,000 square foot facility, in which they saw firsthand our vast fabrication, metrology, and employee enrichment offerings during their stay. In addition, the two also got to see Precision Optical's company museum, in which they saw artifacts of our near 60 years of continuous operation.
The Institute of Optics was founded in 1929 through a grant from Eastman Kodak and Bausch and Lomb. It is often recognized as the premier education and research center for the field of optics in the world, and has produced roughly half of the degrees in optics since its founding. In addition, over 200 companies including Wyko, QED, and Optikos have been founded by Institute of Optics alumni.
Prof. Carney assumed the role Director in the summer of 2017, and is an Institute of Optics alumnus himself. Prof. Carney's research centers on combining near-field inverse scattering with optical coherence tomography, and has a passion for bridging the gap between industry and academia, evidenced by his co-found of Diagnostic Photonics, Inc., a Chicago based medical device company that specialized in producing handheld high-resolution imaging systems. Prof. Carney is also the Editor-in-Chief for the Journal of the Optical Society of America.
Precision Optical is proud of its collaborations with academia, especially with its commitment to creating a regenerative ecosystem of optics and photonics professionals at all levels. Precision Optical would like to thank Prof. Carney, Mrs. DeMers, The Institute of Optics, and the University of Rochester for their tremendous visit and look forward to the possibility of collaboration.