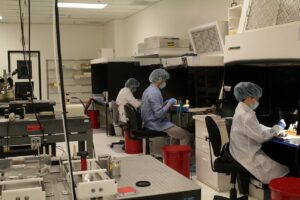 Building upon decades of optical assembly experience, Precision Optical is actively expanding the optical assembly services that we provide to our customers. Precision Optical possesses a diverse set of assembly capabilities that includes custom prisms, mirrors, windows and lenses, in sizes ranging from 3mm miniature optics to large 500mm optical flats. From simple two-component assemblies to intricate system configurations with multiple beam paths, we provide optical and structural bondlines with excellent cosmetic quality, accurate positional/angular alignment, and robust environmental resistance.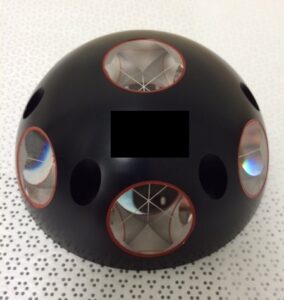 Precision Optical is pleased to have participated in several prestigious projects in 2014. Foremost of these was the assembly of retro reflector arrays that are used to assist Crew and Cargo Vehicle International Space Station approach and fly-around.  Precision Optical has been involved with retro arrays dating back to the LURE mission on Apollo 11.  Retro reflectors, also called corner cubes, have the unique property of reflecting a beam precisely 180° regardless of the beam's incident angle of upon the prism.  When mounted within an array, the corner cubes can offer larger field of view and targeting area.  Each array recently manufactured consists of a series of high-end corner cubes precisely mounted to a metal housing with aerospace-approved RTV adhesive.  Precision Optical has been delivering this type of hemispherical retro array to various space agencies since the 1990's.  Our long-standing history of producing retro reflectors and retro reflector array products is ongoing, and we look forward to future opportunities.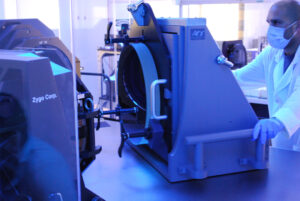 Another exciting application for us was the mounting of transmission flats and mirrors for interferometric systems. These flats are the centerpiece of metrology equipment used to inspect silicon wafers for making computer chips. The industry sector for manufacturing computer chips is potentially upgrading from 300mm diameter silicon wafers to 450mm wafers, which puts greater demands on the precision of the optical components used within inspection tools. Precision Optical polished the windows and mirrors to achieve extremely flat surface figure, and worked with our customer to ensure that the mounting process imparted minimal stress to the optics.  Precision Optical also has the ability to
mount it's own interforometer flats, which are essential in the high quality inspection and characterization of all the optics that we deliver.
As part of our efforts to optimize internal processes, Precision Optical also recently upgraded our interferometric cube beamsplitter assembly fixture. These cubes have immersed non-polarizing thin film coatings, and are aligned to 15 arc second beam deviation and optical path lengths matched to within 4 microns. Achieving these critical optical alignment specs helps our customers build even more accurate metrology equipment to meet industry demands. The new fixture allows us to accommodate a wider range of sizes up to 1.0″ and better control of optical alignment.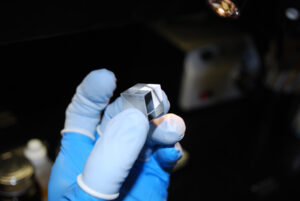 Precision Optical is committed to providing solutions for our customers' applications. Our engineering team analyzes the drawing specifications to identify the primary system requirements and offer novel methods for achieving these goals, and our in-house machine shop provides custom fixtures to ensure alignment accuracy and excellent cosmetic quality of delicate components. Please visit our assembly services web page, or contact us directly for any questions regarding optical assemblies!