In a continuing effort to promote optics education in Southern California, and to create a regenerative ecosystem of photonics professionals, Precision Optical has partnered with Irvine Valley College's Photonics Technology Program (http://academics.ivc.edu/physci/photonics/Pages/default.aspx) by hosting classes (LET225: Quality Assurance of Precision Optics) at Precision Optical's facility in Costa Mesa, California. Collaborating with Dr. Brian Monacelli, who directs the Photonics Technology Program, Precision Optical was involved in the creation of the curriculum that is presented to the students throughout the term.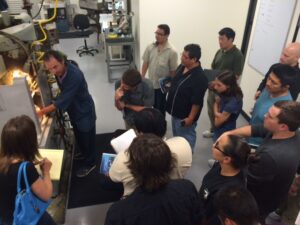 The class consists of diverse students who share a common purpose of enhancing their knowledge about quality assurance and fabrication of precision optical components. The student backgrounds vary from those who have just graduated high school, to experienced engineers and technicians in the optics & photonics industry, to well- seasoned professionals with advanced degrees. Two students in the class are current Precision Optical employees, who are making the most of their opportunity to further their education.
In classes that are held at Precision Optical, students are shown a presentation that gives a brief overview of the class topics. Fronted by CTO/VP of Engineering Nicolaus Lambert, and Optical Engineer Bo Wang, students are given a basic walk-through of the fabrication and quality assurance processes of some of Precision Optical's products; such as windows, mirrors, corner cubes, thin-film coatings, and other custom prisms. Classes also include active demonstrations, which stimulate student interaction, thought-provoking questions, and an overall great educational experience! Recently, the curriculum covered optical shaping, grinding, and polishing operations.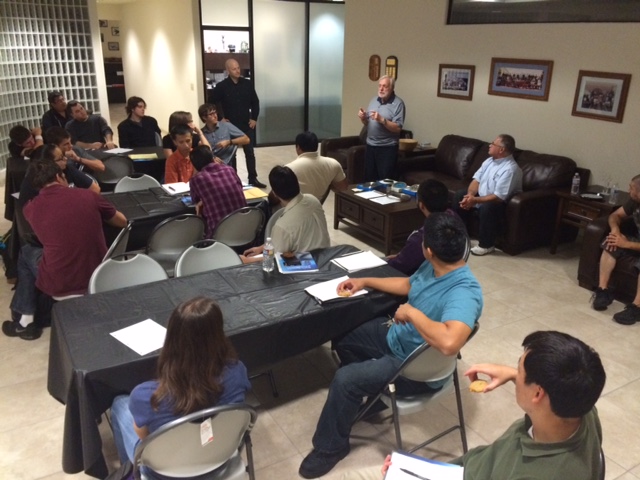 Starting with raw material and following it through various production departments, the students were immersed in a unique upfront experience that Precision Optical could only provide with the help of veteran shaping, grinding, and polishing technicians. In addition to technician assistance, students also received education from special guests Paul Dimeck, VP of Sales of Precision Optical, and Jim Altobelli President of Di-Zon Inc. Paul and Jim offered class, charisma, and an abundance of experience to the students. Paul has worked in the optics industry for 30 years, and Jim has specialized in industrial diamond products (wheels, blades, tools) for over 50 years! This was a unique experience that we intend to replicate for future photonics students..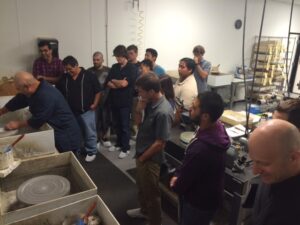 Precision Optical's involvement in IVC's Photonics Technology Program is part of our effort to continue to expand optics/photonics outreach education in addition to our work with the OSSC, OISC, Vital Link, and Saddleback College.