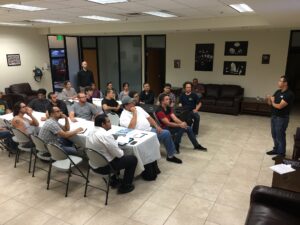 Precision Optical is extremely honored to host Irvine Valley College's Photonics Technology Program for the second year in a row.  As part of IVC's course LET225, Quality Assurance of Precision Optics, Precision Optical is hosting three classes (lecture + lab) at our facility.  The first such event of this semester was held on Friday, October 23rd, and although it offered a general overview of optical fabrication, the focus was on glass cutting and shaping.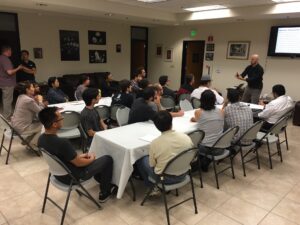 The recent 22-student class was an exceptional group of young minds all enamored with the field of optics & photonics.  Co-instructed by IVC's Dr. Brian Monacelli, and Precision Optical's Nicolaus Lambert and Bo Wang, the students were shown a real-world perspective of their course studies.  Also in attendance was Ron Darbee, Superintendent of Laser Systems Engineering & Operations at Lawrence Livermore National Laboratory.  Ron understands the significance of having qualified, trained laser technicians better than most, and his presence and support was extremely beneficial.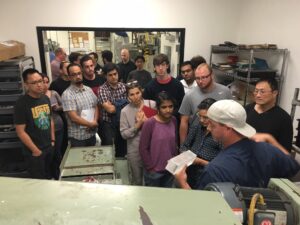 Former student of the IVC Photonics Technology Program (and current employee of Precision Optical) Sean Baume was supporting the educational effort, as well as Precision Optical's 17-year optical technician Ben Felter.
The curriculum for LET225 is industry-based, and is now available through OP-TEC at multiple colleges across the country. (The Precision Optical engineering team provided valuable input to Dr. Monacelli when this curriculum was written).  Although the platform for this course is now nationwide, at Precision Optical the students received an educational experience generally unavailable in the academic realm within California (and likely most of the country).  They were able to learn real-time, via industry-based curricula, directly from industry professionals!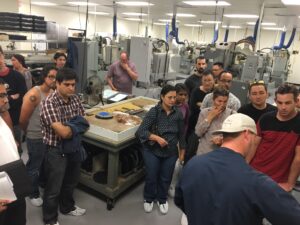 The students had excellent questions throughout the entire evening, and the experience was engaging for all.  After the course, several instructors and students got to reflect on the event, and enjoy fine burgers and refreshments at the renowned Slaters 50/50!  Brian Monacelli and Nicolaus Lambert nostalgically recalled (from some four years' prior)
when the idea of industry-fueled courses was literally just an idea.  That idea has since turned into an NSF grant, nationally recognized courses, full classrooms, and an exciting reality!  The next class offered at Precision Optical, to be held this coming November, will focus on grinding and cutting.  December's course will focus on quality assurance & metrology.  We can't wait!