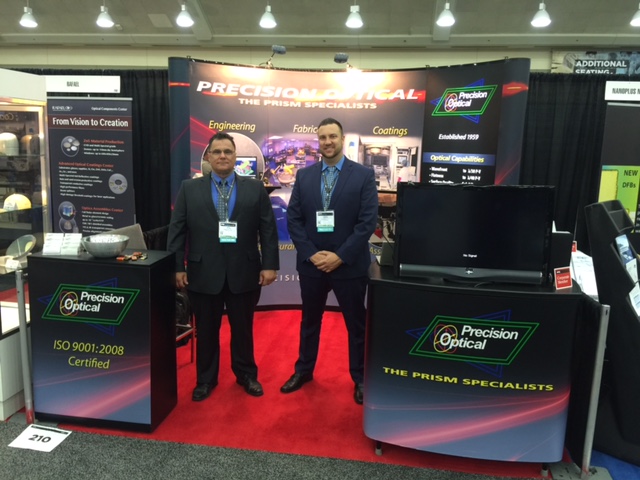 Precision Optical is excited about exhibiting in San Diego at SPIE Optics + Photonics 2019,  where the latest research in optical engineering and applications, nanotechnology, sustainable energy, and organic photonics will be presented. Precision Optical will be exhibiting at our 10' x 10' booth, Booth 720, from Tuesday, 8/13/19, through Thursday, 8/15/19 at the San Diego Convention Center.  Jeremy Gordon (VP of Sales) and Jim McClure (Sales Manager) will be manning our booth throughout the exhibition.  Nick Lambert (President & CTO) and Bo Wang (Optical Engineer & OSSC President) will be in attendance on Tuesday, 8/13/19.
Precision Optical: our name embodies who we are. Since 1959, Precision Optical has earned a widely recognized reputation for reliability, value, and quality precision optics for the most demanding applications worldwide. An ISO 9001:2015 certified and ITAR-registered company, Precision Optical offers a diverse portfolio of capabilities for the prototyping and large-volume production of precision optical components for the biomedical, aerospace, defense, semiconductor, metrology and laser industries. These capabilities include optical fabrication, optical polishing, CNC Machining, optomechanical assembly, engineering and metrology services, and thin-film coating. Key to Precision Optical's success has been our commitment to expanding our capabilities in all areas of optical fabrication and metrology, giving us unsurpassed process control and flexibility in responding to customer requirements.
Our broad specialty has always remained the same: extremely accurate and precise custom optics such as prisms, alignment cubes, corner cube retroreflectors, complex optomechanical assemblies, and large optical flats and windows. In particular, Precision Optical's core product has always been the ultra-precise prism. We manufacture some of the most challenging prisms in the world, from standard prism shapes to intricate custom geometries. We are capable of producing prism sizes from 3 mm to 300 mm as individual components or as multi-component prism assemblies. Moreover, Precision Optical applies thin-film coatings in-house to 98% of all the coated optical components we manufacture, on material from UV to NIR. Precision Optical continuously pushes the threshold of prism manufacturability, while maintaining competitive pricing and lead time. If you would like to setup a personal meeting in advance, please email Jeremy Gordon sales@www.precisionoptical.com. We are looking forward to this event and hope to see you there.