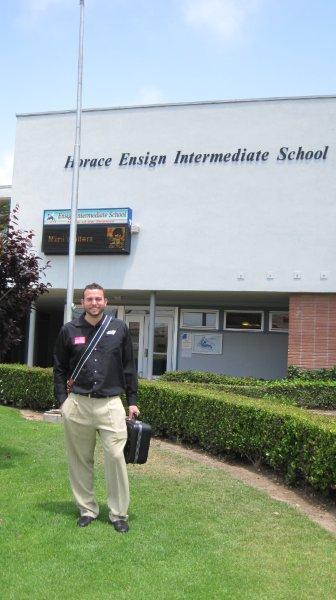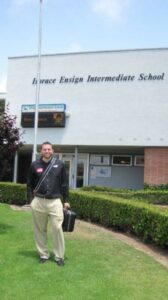 Nick Lambert, Precision Optical's V.P. of Engineering, visited Ensign Intermediate School on May 17 to introduce AVID seventh and eight grade students to the primary branches of physics and, in particular, to the fields of electromagnetism, optics, and photonics. Students got to see what it takes to fabricate prisms, mirrors, and other optical components and optical assemblies. Students interacted with optics (corner cubes, alignment cubes, and beam splitters) and lasers hands-on; they even received their own custom prisms to take home! Their level of interest and enthusiasm was remarkable.
Precision Optical and the Ensign-Lambert Optics Education Program (ELOEP) was happy to visit a campus named after the grandfather of our late Edward Ensign, former V.P. of Engineering and optical mastermind of Precision Optical. Our engineering department, which created the ELOEP, is titled "Edward Ensign Engineering" in his honor. 
Marisa Levy, teacher of the group visited at Ensign, states, "Nick, a huge thank-you from me, and our AVID students for treating us to a fascinating, and enlightening presentation….Thank-you….for a stellar display of physics at its best; the kids and I were wowed throughout!" 
The ELOEP aims to educate and inspire local students of all ages by providing real-world insight into the fascinating world of optics and photonics.