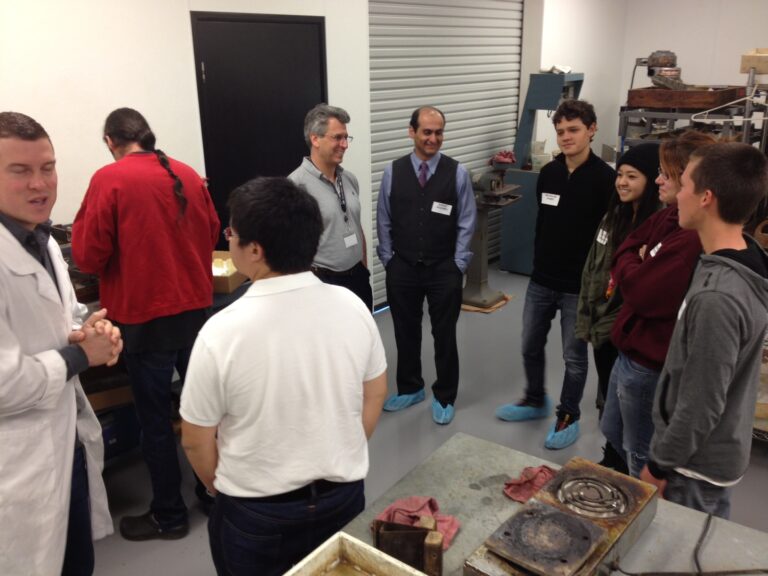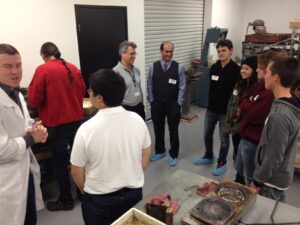 High school seniors from the Waldorf School of Orange County recently visited Precision Optical for a tour of our facility.  The students are studying optics, so the visit provided them with an opportunity to see real-world applications of the scientific principles they have been introduced to in school.   Nick Lambert, VP of Engineering, walked the students through our manufacturing process.  Starting in the shaping department, the students were shown how raw glass is milled into shape through the use of customized blocking techniques and precision Blanchard mills.  Next, the students saw demonstrations of optical hand correction and optical polishing, where flatness and angle specifications are achieved by our highly-skilled grinding and polishing technicians.  The students were also shown our optical assembly, block/de-blocking, optical coating, and quality control departments.  The students visited during the early afternoon, so the shop was bustling with activity.  Joining in this field trip were fellow Southern California Optical Society members and colleagues Donn Silberman and Bo Wang both of whom share our affinity for optical-outreach education. 
Instructor Bobak Moghbel writes:  The tour surpassed my expectations and I am very thankful for it.  After the tour, I decided to change my lesson plans for the week to follow up the visit to your company with some other experiments and lectures…..I feel very inspired, and I believe so do the students. 
Below are some comments from the students:  
Alicia: I loved it! I really enjoyed seeing how the prisms were made in that large room. The creation of these things was so beautiful and practical.
Tiana: I thought that it was very interesting. My favorite part was being able to see what each machine/person does in almost every room. 
Jack: I enjoyed the field trip. Nicolaus Lambert was a very intelligent, knowledgeable guide. It was very cool to tour their facilities. My favorite part was getting to see their equipment, and hear in detail how it is used.
Nicholas: I thought it was fascinating. The precision to which they manufacture the optics is incredible; and their integral part in space exploration was really impressive. 
Precision Optical is committed to supporting the optics community by promoting the educational advancement of the next generation of optical engineers and technicians.  This program is called the ELOEP (Ensign-Lambert Optics Education Program).  If you are an educator who would like to schedule a field trip for your students, please contact Nick Lambert at (949) 631-6800.