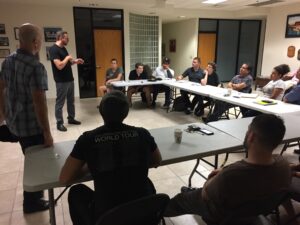 In an ongoing effort to supply the optics and photonics industry with qualified technicians, Precision Optical has entered its fourth year of partnership with Irvine Valley College's Laser Technology Program.
LET225 has started very strong, with active enrollment and an enriching first class offered at Precision Optical on optical cutting and shaping.  Of all the classes that Precision Optical has hosted, this was the most interested group of students yet!  The students asked intuitive questions of our industry-volunteer panel, which included Precision Optical President & CTO Nicolaus Lambert (instructor), Optical Engineer  Bo Wang (co-instructor), Shop Foreman of Optical Fabrication John Hllywa (field demonstrator), and special industry guest Dr. James Hamilton with First Contact Polymers.
After a detailed applications-based lecture offered by Precision Optical staff, the 15-student group was given a comprehensive shop tour of the optical fabrication department, including our cutting, shaping, edging, blocking, beveling, and CNC work centers.  Students witnessed firsthand what it takes to properly fabricate an optical element from raw glass to "near-net shape."  Example optics covered during the class included corner cube retroreflectors, porro prisms, penta prisms, custom prisms, and large optical flats.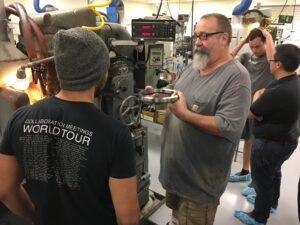 Precision Optical is excited to host additional classes in November (grinding & optical polishing) and December (quality assurance of precision optics) with this same group of students and additional industry volunteers.
For further insight into the IVC Laser Technology Program, please view their latest promotional video for inspiration!  Precision Optical is very pleased to have been able to participate in this video, and we currently have multiple employees enrolled in the program.